TWO PIONEERS, ONE SHARED HISTORY
Our history begins back when Labour Consultancy first began in Italy, 59 years ago.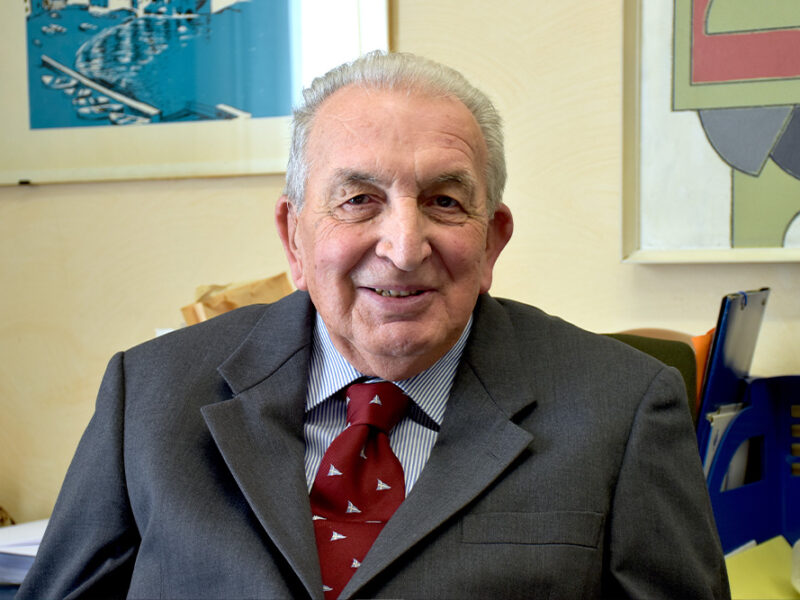 It was in 1963, in Milan, when our founder Dario Lupi enrolled in the first official training course for this profession in Italy.
Only a few months after passing that course, he set up the first small Studio in Genoa.
As the firm began to make a name for itself, Dario Lupi took on the role of Personnel Manager for the passenger transport company "Lazzi", where he later became General Manager, while at the same time he taught labour law for ENALC and then for the Region of Liguria.
Dario Lupi also took on the role, which he would hold until his retirement, of Technical Consultant at the Court of Genoa, preparing some 3,000 expert reports, starting with the first major lawsuit filed by a group of Italsider employees.
When the Italian Employment Consultancy Register was created in 1965, the profession took on a new form along with greater prestige. This helped to boost the exponential growth of the company, which reached 15 employees and was relocated to Piazza Colombo 3, the former headquarters that remained the reference point for all activities until Studio Associato Lupi & Puppo was established.tte le attività fino alla costituzione dello Studio Associato Lupi & Puppo.
A pioneer of the profession and an avid innovator, in 1974 our company was the first in Genoa to embrace technology in this field, using a computerised payroll processing system. It all started with a SAGA MAEL computer, which was replaced with a HONEYWELL and finally an IBM AS/400 system. HONEYWELL, e infine al sistema AS400 di IBM.
Alongside our consultancy activity, 1983 saw the start of our publishing activity: in collaboration with our colleague Carmine Camerota, we created the first edition of the preparation text for the Consulente del Lavoro employment consultancy exams together with the Buffetti publishing house. This text is gradually being adopted throughout Italy in courses organised by the Italian Association of Consulting Firms to prepare for professional exams. Since then, a milestone number of 25 editions have been published, the last one being in 2011. Over the years, our publishing activities expanded and began to involve other publishers, such as Giuffrè, Maggioli, Pirola and "Il Sole 24 Ore". Over the years, some 20 titles in the field of labour law and labour legislation have been published in more than 80 editions.
In 1983, we began producing the monthly "INFORMAZIENDE" newsletter, which summarises all the month's legislative news and is sent to corporate customers, originally by post and today by email.
From 1985 to 1993, our company was deeply involved in expert opinions in cases brought by employees against the FF.SS in the Appeal Courts of Genoa, Milan and Rome.
In 1986, we opened an office in Milan.
In March 1995, a few months after the approval of Italian Legislative Decree no. 626/94 on occupational health and safety, Mr Dario Lupi became the promoter of a corporate initiative, "Progetto Sicurezza s.r.l", extending participation to some thirty colleagues residing in the provinces of Genoa, Savona and Imperia.
This was when he really got to know his colleague Innocenzo Puppo.
Innocenzo Puppo's career began in the field of personnel administration at the Moro olive oil manufacturing company in Sampierdarena. He then started working for the accountancy firm in Genoa run by Favari, with whom he shared the firm after starting his own Labour Consultancy business in 1966.
A few years later, he opened his own office in Genoa.
During that time, he tried to combine his work with his passion for football: while working in the field of labour law, he refereed in the Serie B Italian football league for several years and worked as an assistant referee to international referee Pieri in the Serie A league. His passion for these two very different worlds of law and sport meant he often had to take his paperwork to his hotel to finish it before matches.
In 1981, his daughter Simonetta, who had qualified with flying colours as a labour consultant, started working at his company. However, in 1984, in a tragic accident in the mountains, Simonetta lost her life at only 23 years old, leaving Innocenzo Puppo not only without his beloved daughter, but also without an invaluable part of his company. He decided to work through his grief, devoting all his energy into developing his company even further. 
In 1986, accountant Paolo Michelotti joined Studio Puppo, becoming one of its owners with the establishment of Studio Associato Lupi & Puppo.
In the late 1980s and early 1990s, the company experienced remarkable development in the field of activities relating to the Port and its infrastructure, becoming the company of reference for the Association of Shipbrokers and Agents and the forwarding agents of the Port of Genoa.
During this time, Innocenzo Puppo began working with his son, Mr Paolo Puppo, who pushed the company in the direction of technological innovation and became the biggest supporter of the merger with Studio Lupi.
Studio Associato Lupi & Puppo takes shape in 1998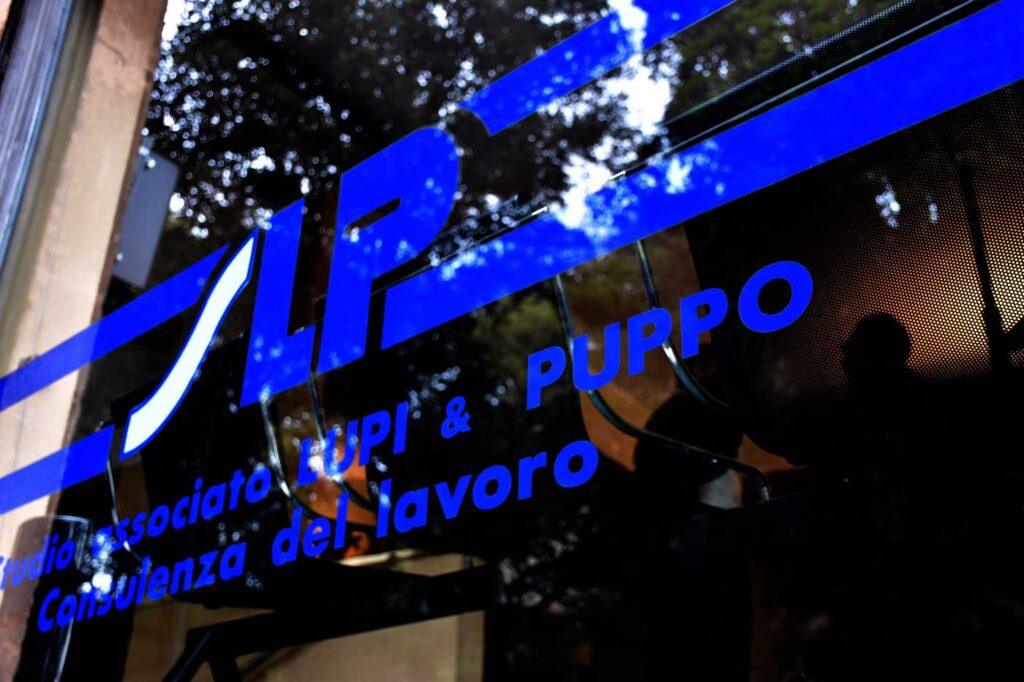 Associato Lupi & Puppo took shape in 1998 through meetings between the owners of the two separate companies over a year. On 14 September 1998, the articles of association for the company were formalised between Dario Lupi, Innocenzo Puppo, MariaPia Bertini, Puppo Paolo and Paolo Michelotti. Between September and December of the same year, the new company started its operations in Genoa, at Via Martin Piaggio. At the time, the company had around 50 employees and collaborators.
Joblab Comsas was established in Milan to develop activities in the Milan area.
In 2002, the company opened another office in Genoa in the industrial district of Sestri Ponente, following an industrial redevelopment operation co-financed by the European Union, next door to some leading industrial companies in the area.
21 April 2004 saw the sudden and untimely death of Enzo Puppo, while Alessandro Lupi joined the company in 2006.
In 2012, Paolo Puppo joined the Italian National Foundation of Employment Consultants and has been a member of the Italian National Council for Employment Consultants since 2017.
Alessandro Lupi was appointed vice-president of Assindatcolf (the Italian National Association of Domestic Employers) in 2015, of the sectoral bilateral body Ebincolf in 2017, and of Fidaldo (the Italian Federation of Domestic Employers) in 2020. Since 2021, however, he has been vice-president of Cas.sa COLF, the sector's supplementary health care organisation.
Alessandro Lupi is also head of the Assindatcolf study centre and a legal advisor in labour law matters for Confedilizia; in this capacity, he actively participates in the contractual negotiations for the renewal of the national collective agreement for building owners (renewed in 2008, 2012 and 2020) and domestic workers (2007, 2014 and 2020).
In 2016, the company's organisational model was amended and enhanced. In the field of personnel administration, several working groups were set up, coordinated by a registered or qualified contact person. Technological development also continued: after testing various products, the company decided to adopt the digital solutions of Software House Zucchetti S.p.A., which still sees the company engaged in progressive conversions year after year. In 2016, the company opened a new office in Albenga (Savona).
Since 2019, Paolo Michelotti has been a member of the Provincial Council of the Order of Employment Consultants of Genoa.
Our company is forging ahead and, thanks to its digital skills, its agile and flexible structure and its reputation as a competent, up-to-date and stable entity, it is increasingly active throughout the Italian market.
Find out what services we can offer your company